---
eSIM
Buy Your

eSIM Europe

in United Kingdom
Looking for the perfect eSIM Europe for your travel needs? Discover the best eSIM Europe option designed specifically for tourists. Choose our eSIM Europe to stay connected and travel without worrying about hefty roaming fees.
Over 12,000+ Reviews across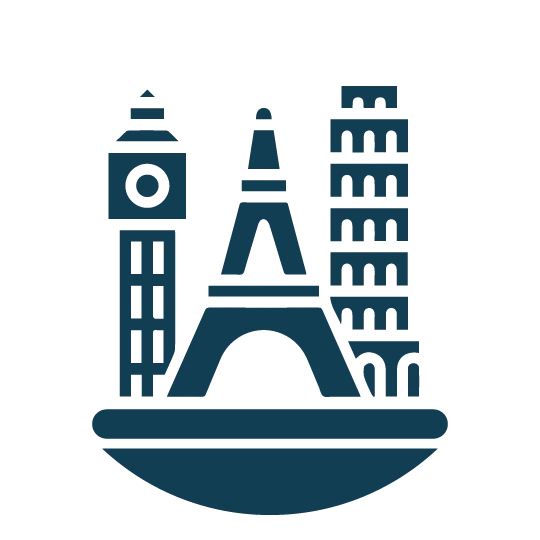 Your Complete Guide to the Best SIM Cards for Traveling in Europe
Are you excited about your upcoming trip to Europe? Don't worry about expensive roaming charges or slow data while you're abroad. A simple solution is getting a SIM card that's perfect for your European adventure. We'll help you find the right SIM card, whether it's a physical prepaid one or an e-SIM card. We'll give you all the information you need, including where to get one, the latest prices as of August 2023, and essential tips for using a SIM card while traveling in Europe.
Staying Connected Made Easy: Your European SIM Card Options
When we travel to a new country, the first thing we want is to stay connected. Depending on how long we're staying, I either buy a local prepaid SIM card or order an e-SIM card. As we embark on a quest to explore every corner of the globe, you'll find eSIM and SIMs card on SimCorner, spanning from the Europe, to Asia, to USA, Canada, and Australia and New Zealand and more. So, whenever you plan your next adventure, remember to check out SimCorner for the latest advice on SIM cards and e-SIMs. Consider us your travel connectivity partner to stay connected – don't forget to bookmark us!
Finding the Best SIM Card for Europe in 2023
If you're traveling to Europe in 2023, getting a local prepaid SIM card in each country just doesn't make sense. They may be budget-friendly at first, but if you are travelling different countries the cost can add up . To be fully prepared, and connected the moment you land, ordering a SIM card for Europe online is the best way. There are fantastic deals designed especially for tourists.
Top Recommendations: Bouygues Telecom e-SIM Cards or Europe Data eSIM - 200 GB Plan
Great tip from frequent travellers: e-SIM cards are a quick and easy and a great choice for your Europe trip in 2023. They're convenient, quick to set up, and you won't need to deal with swapping physical SIM cards. You can even get a 15 GB data plan for just £27.
The best e-SIM cards for Europe are provided by SimCorner. Click on the link to buy them directly online or check out the comparison below to find the perfect one for you. All the eSIM cards listed in this guide are available for online orders. They'll be sent via email. Howe convenient!
Why Should You Get a SIM Card for Europe?
ou might wonder: "With all the public WiFi available, do I really need a eSIM or SIM card?" Well, while public WiFi is handy, it often lacks speed, signal strength, and security. Imagine being in a hotel with weak WiFi or struggling to upload photos. Having your phone connected just makes everything smoother – it's like having a piece of home with you.
And here's something important: Public WiFi is not secure. Using a VPN is a good idea to protect your personal information
Think about it – ordering a cab through an app, using Google Maps for directions, finding great nearby restaurants, or checking train schedules. All of these are much easier with a SIM card.
Ready for Europe? Get Your SIM Card Online
To make your European journey smooth and hassle-free, consider getting your SIM card online before you travel. Check out the top 4 European prepaid SIM cards and e-SIMs for 2023 below. The best ones are right at the top!
SimCorner's top pick for Europe in 2023 is the Bouygues Telecom prepaid E-SIM. It costs £43 and gives you 30 GB of data across the EU, including the UK, Norway, and Iceland. Unlimited calls and texts are included, and it activates as soon as you connect to a supported network in Europe.
For data-heavy activities, the Europe Data E-SIM is a great choice. Priced at £66, it offers a huge 200 GB data limit. It covers the EU, UK, Iceland, and Norway, with activation based on the date you choose. This option does not come with calls and texts but with such a large data limit, you are able to use data based apps such as Whatsapp, Viber, Skype, Messenger, etc to make phone calls.
If you need international minutes, consider this Prepaid Travel E-SIM. It offers 24 GB of data across the EU, UK, Iceland, and Norway, plus 500 Local Minutes to use locally within the covered country (mobiles and standard landlines). It's priced at £53 and even includes a UK phone number.
For shorter stays, the Bouygues Telecom 15 GB E-SIM is a budget-friendly choice at £27. It covers the EU, including the UK, Norway, and Iceland, and comes with unlimited calls and texts.
Getting your Europe SIM card is now simpler than ever. Stay connected and enjoy your European adventure to the fullest!
How Does SimCorner's Europe eSIM Work?
Our Europe eSIM functions just like a regular SIM card, but with the added advantage of being seamlessly embedded into your device. Upon purchasing your eSIM Europe plan, you will receive a QR code via email with 5-10 minutes that you can easily activate to get started.
Once activated, your European eSIM enables you to effortlessly use data on the go, or if it includes Calls and SMS, make and receive calls, as well as send SMS messages – ensuring you stay in touch with your contacts throughout your journey.
Enjoy the Best eSIM Europe Deals with SimCorner. At SimCorner, we take pride in offering the best deals on eSIM for Europe. 
Experience Seamless Connectivity, Enhanced Mobility, and Cost Savings with Europe eSIM
SimCorner is dedicated to delivering reliable and user-friendly eSIM solutions, making us your trusted partner for a connected journey across Europe. Don't miss out – explore SimCorner's Europe eSIM plans and seize the best deal for your travels today!"