Dream More, Travel Later
Travelling and wandering the world is quite the adventure, but sharing memories and staying in touch with those who matter shouldn't come at a cost. Our prepaid International travel SIM cards make sure your globetrotting doesn't come with hefty roaming fees and that you stay connected with ease.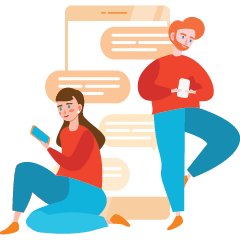 Connection
Who needs the stress of static? We make sure you stay connected with prepaid International SIM cards on offer for most popular travel destinations.
Convenience
No roaming fees, hidden fees, or extra costs! We've partnered with some of the largest telecommunications service providers across the globe to ensure that our travellers get the best deal possible.
Customer Service
Need help? Travel suggestions? Trouble finding the right plan? Our customer service team go the extra mile to offer you the support you need no matter where you are.
Take Us With You!
Spoken to mum from the middle of the desert? Video-called from the top of a mountain? Show us where you've been, where you're planning to travel to, or tag us in a cheeky travel story! We want to hear from you.
Frequently Asked Questions
TOP TRAVEL TIPS AND HACKS
---
Let's face it — life's pretty hard in the modern world without a smartphone. If you're travelling overseas to a country where you don't speak the language, planning an adventure a little off the beaten track, or just want to check the weather during your first night in a new town, you're going to need a working phone.
While your regular phone might be OK on the hotel Wi-Fi, only travel SIM cards can allow you to use phone data, send messages and make calls without racking up hefty roaming charges from your at-home mobile service provider.
Deciding which travel SIM card is right for your needs depends on a few things. At SimCorner, we've partnered with some of the largest telecommunication companies in the world to keep you connected, wherever your destination may be.
Just some of our international travel SIM cards for different regions include:

Europe — Stay connected with a Europe SIM card through Croatia, Cyprus, Czech Republic, Denmark, Finland, Germany, Greece, Hungary, Iceland, Ireland, Latvia, Macedonia, Malta, Netherlands, Norway, Poland, Portugal, Romania, Slovakia, Slovenia, Spain, Sweden and more.


USA, Canada and Mexico — Travelling the Americas just got a heap easier with our bundles for the continent.


Asia — Make everyone at home jealous while you stay in touch from Thailand, Japan, China, India, Cambodia, Indonesia, Hong Kong, Laos, Macau, Malaysia, Myanmar, Nepal, Pakistan, Philippines, Singapore, Sri Lanka, South Korea, Taiwan and Vietnam.


New Zealand, Australia and Fiji — Enjoy a multi-country prepaid SIM, or opt for one of our country-specific travel SIM cards for your destination.


United Kingdom — Our UK SIM cards can be used in Scotland, Northern Ireland, England and Wales.


South America — For use in Argentina, Brazil, Chile, Colombia, Costa Rica, El Salvador, Nicaragua, Panama, Peru and Uruguay.


Africa — Our international travel SIM card for the African continent will keep you connected in Chad, Congo Republic, Gabon, Ghana, Kenya, Madagascar Republic, Malawi, Nigeria, South Africa, Tunisia and Uganda.


Middle East — Never skip a beat with a prepaid SIM for Egypt, Kuwait, Israel, Oman, Palestine, Qatar, Turkey and UAE (Dubai).
Can't find the country you're looking for in our list? Our international travel SIM cards may still be able to service your destination. Check with our team if you have a specific destination you're unsure about, and we can let you know the best option for staying connected.

If you have questions about comparing different travel SIM cards and which prepaid SIM will be best for your needs in a particular country, check out our blog. It's full of handy information you should know before your trip and includes plenty of nitty-gritty details about how different prepaid SIMs stack up against each other.
All of the international travel SIM cards from SimCorner are designed especially for travellers, pre-loaded with set features and without any hidden fees or expensive roaming data charges. Once you've bought your prepaid SIM, you'll never be charged for anything extra when you start using it.
Our prepaid SIMS come with plenty of data, so you can make internet calls back home, and video loved ones from the top of a mountain or a sunny beach. Prepaid data allows you to easily check directions when you're out and about and share images of your trip in real-time.
Plus, our travel SIM cards come with thousands of minutes of inter-SIM calls, meaning if you and a family member or friend both purchase one, it's free to contact each other during your trip. How easy is that?
All of our prepaid SIMs have a 15-day or 30-day service period from the date of activation — so you won't start using up your data before putting the travel SIM card into your phone.
Are you going to be away for longer, or are you planning on using some serious data while you're away for remote work or long chats with Mum? Simply purchase multiple prepaid SIMs. Once you've used up your data on one, you can switch it out for a new prepaid SIM and keep connected.
Some of our travel SIM cards also come with an option to top up credit on your existing SIM. Before you buy one of our prepaid SIMs, you can check if this is the case under 'Things to Know' on the product page.
All of our international travel SIM cards are supplied by reputable telecommunications providers in different parts of the world. Using them is safe and easy, but you will need to make sure your mobile device is unlocked before you leave for your big holiday. Having a postpaid phone on a plan with a local carrier isn't the same as having a locked device — but if you're not sure, your mobile service provider can double-check for you and help you unlock your device for easy international use.
SimCorner offer different pay-as-you-go travel SIM cards. Some have phone numbers noted on the packed, others get sent by the provider to your phone or if they are data only, you won't have a local number or be able to make direct calls and send direct SMS messages. But your generous data package will allow you to use any internet-based calling or messaging service; think WhatsApp, Facebook Messenger, Viber, Snapchat, Skype, iMessage or Signal.
If you add credit to a Viber or Skype account, you'll be able to make direct calls through those services on your international travel SIM card.
Yep! A prepaid SIM won't alter, delete or change any information on your phone — you'll still be able to view your apps, messages and any other information saved to the handset. If your contacts are saved in the storage on your current SIM, it's a good idea to transfer these to your phone's internal storage or back them up so you can access them at any time. Your WhatsApp and Messenger contacts will all still be on your phone.
When you receive your travel SIM card from SimCorner, the first step you'll need to do is register it with us. Then, wait until you've reached your destination to insert the SIM card into your phone — it will activate from anywhere in the world, so you want your daily countdown to start when you've arrived in the country. Make sure your mobile data and data roaming services are turned on and fully enabled so you're ready to start taking in the sights and sounds like a local!
Most of our travel SIM cards are compatible with mobiles only, meaning they won't work on iPads or other tablets. However, you can use a hotspot or tether from your mobile to another mobile phone, laptop or tablet and share your data across multiple devices. We do however offer iPads or tablets Data SIM options as well for certain countries and regions.
SimCorner offers around-the-clock support and a money-back guarantee on all of our prepaid SIM cards — you just need to let us know about any problems as they occur. When you reach your destination, we recommend activating your SIM card at the airport, so you have a Wi-Fi connection to reach out to customer support if anything doesn't look right.
If you've been a clever clog and thought ahead with a prepaid SIM to your holiday destination, you might start to rest on your laurels. Don't forget accessories to keep you in touch throughout your trip!
Shop our range of accessories to ensure you have all the travel essentials; from universal power adaptors to wireless phone charger power banks, we've got everything you need to stay connected no matter where you are in the world. While you're there, why not pick up a mask for the plane and a journal to keep all of your brilliant holiday thoughts in?
SimCorner is proud to deliver all over the UK, shipping from London. In general, your order should take around 4-6 business days to metro UK areas.
Need it faster? We also offer tracking on our orders, so you can see when your order's coming. We also have an express post option which will arrive in 2-3 business days.
If you've got a solo trip, a family holiday or a big adventure with the gang planned, a prepaid SIM card will keep you in touch with those back home and prepare you for any challenges that come your way.
To pick the right data plan and prepaid SIM for your holiday, get in touch with our friendly team today. We'll be able to talk you through all the options available and set you up with the best value plan that will suit your needs.